MATA KE BHAGTO. IT IS SAD TO SAY THAT ISMAIL MERCHANT, PERSON OF INDIAN ORIGIN, HAS DECIDED TO MAKE A MOVIE TO CASH IN ON THE SUCCESS OF THE PASSIONS. HE NAMES IT "THE GODDESS". IT IS A STORY OF THREE INDIANS AND AN AMERICAN PAINTER WHO IS OBSESSED WITH SHAKTI. SO TO WOO THE WESTREN AUDIANCE HE PICS SEXY LADY LONG LEG TINA TURNER(LOVINGLY CALLED BY HER FANS) TO PLAY THE ROLE OF MAA DURGA. IS IT A SLAP ON THE FACE OF ALL HINDUS ? I SURE THINK SO.
MAY OF YOU HAVE ASKED WHAT CAN WE DO? WE HAVE POSTED A PETITION BELOW, WHICH YOU CAN SIGN AND SEND IT TO US. IN TIME WE WILL POST YOU COMMENTS ON THE SITE.
PETITION
Yes we are outraged at Ismail Merchant's decision to cast pop star TINA TURNER as MAA DURGA(SHAKTI) in his new movie "THE GODDESS".This is an insult to the Hindus all over the world and the Dieties they worship. We strongly join the protest and agree that Tina Turner should be dropped from the role.
Please cut the above petition, paste in the massage, include your name and email address then send it to
petition@jagrantv.org
or
jagrantv@yahoo.com
. You are welcome to add more comments in your massage.
YOUR FEEDBACK:
Kapil writes
Dear Avi Verma Jee,

Thanks for keeping me informed about this most outrageous concept of Mr. Ismail
Merchant, who claims to be a great movie maker but he is not. I happened to watch a sixty minutes piece about him, Few years, back. The only thing came out of that piece was that he is good cook, and feeds his crew some chicken curry, which he has perfected. I am outraged but his recent concept of Tina Turner as Maa Durga.
Tina Turner is Old and Ugly. Whereas Goddess Maa Durga is Symbol of beauty, Power and Motherly Love. If he is looking for an International Actress who was world wide appeal, so that his film could sell, then let me remind him that he could have easily chosen Aishwariya Rai. She was recently voted the most liked around the
world by a UK based magazine. This way Mr. Merchant can easily won the hearts of Billion Indian people instantly and few other Millions around the world.

I join you, along with hundreds other to oppose and protest against the Casting of Pop Star, Tina Turner, with very Objectionable image as Maa Durga.

May Maa Durga give you enough Shakti to Protest it, until this gets resolved.

Kapil
K S Krishnamoorthy writes: 
Dear Sir,
I welcome your effort to protest against these serious
religious offenses.But no legal action can be taken
against these people.
  I belong to TamilNadu state of India.Here there are
a couple of tamil      songs that make fun of Hindu
Gods(Ganapathi,Skanda,Vishnu,Krishna etc.)Can we
legally file a case against them?
  Please do reply and support this issue.
Yours,
k.s.krishnamoorthy.
Dr. Doobay of Vishnu Mandir writes
Dear Vermaji,
I thank you for your e-mail, and I will certainly join this protest. 
Where 
is this film is going to be shot, I think it is in India and if this is 
so I 
will call on the Indian Govt to stop this, not me alone but all of us 
should 
do this. Please let me know how I can participate in this protest. 
Thanks. 
Dr. Doobay.
Dr. Alok Srivastava of Rajdhani Temple writes:
Avi Ji,
Very dismayed by the news. Surely it is an insult to the Hindus, if a
person of Tina Turner's fame performs Goddess Durga. Ismail has no
sensitivity to the Hindus feelings. His Muslim brothers might have
already assassinated him if he even of thought to portray Paigambar
Muhammad. Please let us know whom to contact in protest. 
One should also bring the matter into the attention of Shiv Sainiks
and Bajrang Dal in Mumbai to take care of the matter locally.
Thanks Alok
Amnik writes:
Dear Mr. Verma:
It is shame that every few years Hindu Gods and Goddeses are subjected to this kind of humiliations and no body cares. All our so called Hindu organizations do nothing but talk. They are all worried about their political affiliations.
I am glad we still have very few Hindus left, who will stand up against such things. Bravo Mr. Verma. We are with you, we all join you in this protests. Please let us know how we can help?
Please note, if a legal action is warranted in this matter, we will do a fund raising for the cause.Please keep us informed.
Sincerely
Amni K
HERE IS A COPY OF MY LETTER TO MR. MERCHNAT ON FEB 20,2004 :
Mr. Ismail Merchant:
Merchant-Ivory Productions
Via email contact@merchantivory.com
RE: Upcoming film with Tina Turner as Maa Durga.
Dear Mr. Ismail Merchant:
I am writing on the behalf of Jai Jagdambe Foundation in Chicago, Illinois. We are a not-for- profit organization who is devoted to praying Maa Durga. We believe strongly that her blessings help us on daily basis. Our foundation organizes a variety of religious functions throughout the entire United States. Our events consist of Devi Chowkis and Devi Jagrans in which we sing in Her glory and receive her blessings. In addition to that, we have also developed a local television program, known as Jagran TV, on a noncommercial basis. The purpose of this program is to bring Maa Durga to those who are unable to attend our events in our temples.
Today, I happened to come across a news clipping on at Yahoo! India in which I discovered that that you are making a movie called The Goddess based upon Maa Durga and you have chosen the famous pop singer, Tina Turner, to play the role of Maa Durga. I have also verified the same information on Tina-Turner.com. If you do not know, Maa Durga is worshiped all over the world in many different forms. She symbolizes a motherly figure and a victory of good over evil. We take honor in praying to her with great devotion. Your effort is purely commercial and very offensive to Hindus all over the world. The fact that you are an Indian yourself disappoints me even more that you would consider a rock star to portray Maa Durga
( no disrespect to Tina Turner). You should respect the feelings of all the Maa Durga devotees all over the world. Maa Durga holds a very sacred place in the hearts of all Hindus. We will not let you exploit Maa Durgas sacred name for your own financial gains. Would you ever think of casting Snoop Doggie Dog ( no disrespect) to play as Prophet Mohammed? You would not dare.
We strongly urge you to not cast Tina Turner as Maa Durga, as we cannot see a pop singer as a representation our holy mother. It is very offensive to our Hindu faith and devotion. We hope you will understand our position in the matter and reconsider your casting Tina Turner as Maa Kali.
Sincerely,
Avi Verma
President & Founder of Jai Jagdambe Foundation
HERE IS A PICTURE OF TINA TURNER TO BOLSTER OUR PROTEST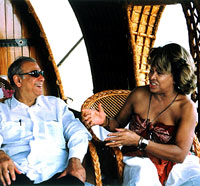 ISMAIL MERCHANT AND TINA TURNER
COPY OF MY EMAIL TO ALL DEVOTEES 2/27/04
Dear Maiya Devotees:
Jai Mata Ki
First of all let me thank you all for your support and complete agreement with us on this issue. Here is an update on the subject. As many of you suggested we had sent a letter to Mr. Merchant to protest his casting Tina Turner as Maa Durga in the upcomming movie "The Goddess". Mr. Merchant has dismissed our protest by calling us narrow minded. Mr. Merchant is an elder ( BAJURAG), who is in a movie business for 42 years and the Elders can say anything. ( BARON KI BAAT KA BURA NAHIN MANNAINGE HUM) We are not offended by his saying so. In fact he tried to justify Tina Turner is supreme choice for the role. Well this can be argued at length. Anuradha Dutt of The Pioneer, a reputed paper writes on Feb 12,04 in her article on the subject "The sex symbol, lovingly referred to as Lady Long Legs by her fans, is expected to sing and dance on a tiger's back in this film. If this was not so very offensive, it would be funny".
http://www.southasianmedia.net/index_opinion.cfm?category=Religion&country=India#Now%20Goddess%20Kali%20excites%20interest
The sad part is that Mr. Merchant is an Indian from Bombay, if he does not want to understantd the feelings of fellow Hindus, then who will. He will have to make the change in his decision to cast Tina as Maa Durga. I have visited her web site
www.Tina_Turner.com
and saw her pictures which convinced me to agree with Anuradha of The Pioneer. Do we want to see our Maa Durga/Shakti represented by some one who is known for her long legs or as a sex symbol. I afraid not.
What I fail to understand why is the Hindu Dharma so week. History tells us our religion has always been the target of attacks may it be Mahmood Gazbnabi who looted us centuries ago, or very recently Christians, who are trying to convert Hindus or some Bar in Chicago who is posing Lord Shiva with a bottle of wine in the hand, or some American Business trying to sell Lord Ganesha on Chappal or on a Toilet Paper, or some Southren baptist Church parying to Jesus on Diwali to guide Hindus to the light out of Darkness. We have constucted big Temples all over the world and argue that we are trying to save our religion and culture. Can we realy save it, if we let every one attack our religion. Think about it. Would any other religion let you attack them, no way. Only Hindus, my friend only Hindus.
Media all over the worls has covered this story and I am giving you the links below:
1
3
4
At Local level a prestigious paper India West has covered the story.
We need to have a joint effort, we need to join hands and protest this very strongly. This is very offensive, this is very degrading to the Hindus all over the world, specially devotees of Maiya. We have always worshiped Maiya in the form of a KANJAK and we won't let Tina take a place of Holy Mother. We have nothing against Tina Turner of Ismail Merchant, they are wonderful human beings and God Bless them, but we will not let them use Maa Durga, her image for pure commercial purposes. I urge all of you to write to Mr. Merchant, organize a protest in your Temple, pass resolutions and send it to me, so we can take this matter further. We need your help, your support, your suggestions in this matter. We are in a process of setting up a web site, so devotees can vote and register their views in this regards in this matteer. we need volunteers for that also. Please pass on this info to your friends.
Jai Mata ki
Avi Verma
President & Founder
Jai Jagdambe Foundation
Jagran TV Chicago
NOW GODDESS KALI ARTICLE IN THE PIONEER EXCITES THE INTEREST
Anuradha Dutt Thursday February 12, 2004
Source : The Pioneer
The Tuesday city supplement of one of the Capital's English dailies carried a report about American singer Tina Turner being slated to play Goddess Kali in a Merchant-Ivory film called The Goddess. The sex symbol, lovingly referred to as Lady Long Legs by her fans, is expected to sing and dance on a tiger's back in this film. If this was not so very offensive, it would be funny. The Goddess Kali, who came to be understood better by the West through the story of Dakshineshwar's great sage Ramakrishna Paramahansa and his brilliant disciple Swami Vivekananda, commands a huge following in India and Nepal. She is as much the focus of reverence for devout Hindus as any of their important gods. The promised celluloid adaptation by Merchant-Ivory amounts to sacrilege.




Ismail Merchant, of the production house that bears his name, should have known better, being of Indian origin. If philistines in America or England emboss Hindu deities on napkins or toilet lids or garments, their ignorance of an alien culture is supposed to exonerate them. But when Mr Merchant plans to reduce a divine figure to a pop diva, whose last memorable achievement was crooning the theme song for a sexist James Bond film, then the lapse is magnified. Worse, the author of the report seems to find no cause for offence in the proposal. It points to the increasing deracination of urban Indians under the combined Hollywood-MTV onslaught.



The earlier screen portrayal of Goddess Kali in a foreign film that outraged Indian sensibilities was in the Oscar-winning director Steven Spielberg's Indiana Jones and the Temple of Doom. In this far-fetched recreation of the Hindu ethos, the polarities of good and evil, a Judeo-Christian concept, were projected by pitting the dark goddess against Shiva. In the film, Kali is Satan's Hindu counterpart while Shiva is Jesus Christ's. The worshippers of this evil goddess are the thugs of Bengal, relocated for greater effect to a Bangkok palace. They draw their malevolent powers from Kali.



This is carrying creative licence too far as Kali is popularly worshipped as Shiva's wife and equal half. She is immeasurably powerful, and not evil, the universal mother who protects her devotees. The stories about her depict her emerging from Goddess Durga's brow as the latter battles the demons Sumbha and Nisumbha, generals of Mahishasura, who is destined to be destroyed by Durga. Kali, contrary to Merchant's image, which approximates to the Greek sirens who lured sailors to their doom, is described as being of a fearful appearance: "Emaciated, with a wide mouth and lolling tongue, and deep sunken eyes. She proceeds to decapitate Chanda and Munda, two demon warriors, and then destroys the terrible Raktabija, from whose every drop of blood spring thousands of combatants." Kali's stratagem is to devour every drop of blood and then kill him.



For this feat she is awarded an exalted place in the Hindu pantheon, in time emerging as the principal deity in Tantra. Her cult accords a subordinate place to Shiva, though the two together are seen as granting liberation to the dying at cremation grounds. The image of Kali with a foot placed on Shiva's body as he lies at her feet, is meant to symbolise Maya, the delusive creative power that brings forth the phenomenal reality, subdued by the unmanifest absolute. Conversely, the latter is powerless without his shakti. This portrayal, replete with meaning, has been interpreted by a curious American commentator as the renegade black goddess dancing on Shiva's corpse! Another writer, a born-again Christian, has sagely observed that she is "not the sort of girl you'd wish to bring home to mother." This growing interest in Hindu goddesses in the West has been credited to the revival of witchcraft , which accord the central position to feminine power. These exist in secret, fearful of Christian scrutiny.



The popularity of so-called Tantric sex among orgiastic and gay groups is an index of the superficial understanding of eastern religions in a pleasure-seeking society. Myriad internet sites promise unimagined joys through Tantra to seekers. An extremely difficult spiritual regimen, meant for the select, has thus been reduced to a novelty or even witchcraft. It is viewed with acute fear and suspicion by the majority White Christian community, which still sees the doomed Marilyn Monroe as the epitome of submissive womanhood. Therefore, at the heart of this failure to comprehend the Hindu goddesses is the inability to reject a demeaning sexual stereotype.


| | |
| --- | --- |
| | |
| | |
Some Indians are dismayed at Tina Turner essaying the role of the Hindu goddess Durga in Ismail Merchant's latest film, saying her pop star image is anything but divine.
At the centre of the protests is Chicago businessman Avi Verma, who says he is an avid devotee of Durga.
Verma, president of the Jai Jagadambe Foundation, has been organising 'jagrans', or community prayer sessions, every year. He also runs Jagran TV, a not-for-profit group that telecasts devotional songs dedicated to the deity.
Verma said he and other Hindus strongly objected to Turner playing Durga because her pop star image did not go well with the role she was set to play.
"Turner's website features half naked pictures of her. How does Merchant reconcile this image with the role of Durga? We devotees see the mother in Durga. Will any Indian want to see his mother half naked?" Verma said.
Verma and other Durga devotees have launched a signature campaign, urging Merchant to drop Turner from the lead role. Verma has received supportive e-mail messages from scores of Indian Americans and temple officials in the US.
Filmmaker Merchant, however, is unfazed.
In a letter to Verma from London, Merchant said: "The views you express seem to indicate a certain narrow-mindedness about who is allowed to represent the goddess - as though it is in your power to decide where and how she is represented. We are here to show her generosity and charisma - and not to denigrate her.
"I hope you have seen the Satyajit Ray film 'Devi' (goddess) in which a father-in-law prostrates himself at the feet of his daughter-in-law. Do you consider this to be sacrilegious? No. So, if a Muslim wants to show the goddess in her glory - is that denigration?
"Maa Durga is reflected through the power of shakti (energy) in every human being, whether Hindu, Muslim, Christian, Buddhist, Jew or Jain. We are only interested in shakti - the power that is embodied in all religions and all faiths in the world.
"My first point is that Durga's power is to manifest herself in many different forms, and it is her devotees' duty to recognise her in all things.
"There can therefore be no contradiction or offence in our casting Tina Turner - in fact it is impossible to imagine a human being with more magic and charisma than Tina Turner or one more able to act in the role of the goddess."
An incensed Verma said Turner had been cast for commercial considerations.
Verma said he suspected that Merchant had been inspired by Mel Gibson's "The Passion of the Christ", which raked in more than $23 million on the first day itself.
"There is no art or devotion involved. Turner is there to draw the Western audience," he said.
"Durga devotees pray to a Kanjak (a girl of 12 years or under), because we consider her a symbol of purity. We see Durga in Kanjak. Can we say the same thing about Turner?" he said.
"If it is not a caricature of Shiva (in a Chicago disco), it is Ganesha on toilet paper (made by a US manufacturer). We Hindus have always been at the receiving end because we are too civilised. This has got to stop," he said.